In 2020, institutional bulls lined up to enter the battle in the cryptocurrency field, which completely sounded the horn of institutional bulls. As a member of the institutional army, PayPal may have joined later.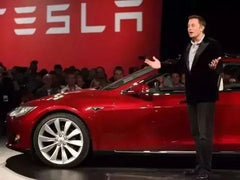 As an international trade payment tool pursued by hundreds of millions of users around the world, PayPal is one of the most widely used third-party payment tools in the world, established by Peter Thiel and Max Levchin. It serves more than 200 markets and supports more than 100 currencies. In cross-border transactions, nearly 70% of online cross-border buyers choose PayPal to pay for overseas shopping, which is a truly global payment platform.
In fact, there is another key figure in PayPal's development history - Elon Musk, who may be the real enlightenment teacher for PayPal to move towards the field of cryptocurrency.
Musk: I can't walk anymore. Stop and have a rest..
If you don't have a detailed understanding of PayPal's development history, it's actually difficult to associate it with musk, the "encryption and single demon king". PayPal didn't appear in 1998. Max Levchin and Peter Thiel first established consistency. PayPal was officially launched in 1999. In 2000, confinity announced the merger with x.com founded by musk, and the following year, x.com was officially renamed PayPal, which is the real predecessor of today's PayPal.
At that time, musk, as the founder of x.com, squeezed out Peter Thiel, the original founder of PayPal, after the merger of x.com and PayPal, and took the post of CEO himself. However, due to poor management, musk was jointly impeached by employees and the board of directors, and Peter Thiel returned to PayPal. It can also be seen from this that Musk's innovative ideas have not been recognized by traditional institutions such as PayPal, and whether these innovative ideas involve the field of cryptocurrency is unknown to us, but we can know that musk showed great interest in bitcoin as early as 2014.
Although the story of musk and PayPal is over, the story of musk and cryptocurrency has officially begun.
On April 1st, 2019, dogcoin's official twitter released a survey, "who should be the next CEO of dogcoin?" In the atmosphere of April Fool's day, musk won with 54% of the votes. Musk, who learned the news, readily accepted the "position" and changed his twitter profile to "CEO of dogcoin", but later he seemed to feel something inappropriate and changed it to "former CEO of dogcoin". Since then, musk seems to have fallen in love with dogcoin.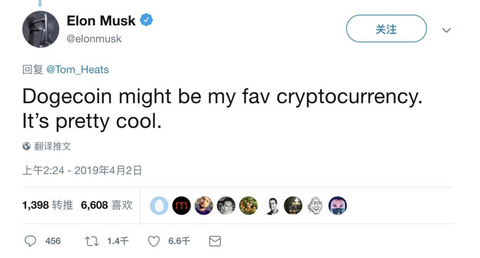 Nickle, the developer of dog coin, said in an interview that they have been cooperating with musk since 2019. Musk provided "a lot of suggestions and opinions" and shared his huge network, but the development team rejected the funds he provided. This means that musk didn't suddenly wake up in 2021. He began to lay out dogcoin from 2019 until 2021, when he officially went to the stage, from the former CEO of dogcoin to the godfather of dogcoin.
Of course, the godfather of dog coin is not Musk's job. As the CEO of Tesla, Musk's every move will have a certain impact on the market. So after musk announced that Tesla would accept bitcoin payment, bitcoin immediately soared from $39200 to $44300 in 40 minutes, and further rose to $48200 the next day.
But musk fell behind in embracing bitcoin. At 6 a.m. on May 13, 2021, Musk's tweet poured cold water on the encryption market. The tweet said that due to the energy consumption caused by bitcoin mining, Tesla would suspend accepting bitcoin payments, and expressed concern about the rapid increase in the frequency of using fossil fuels in bitcoin mining and trading. However, musk stressed that Tesla would not sell any bitcoin.
Even so, musk is still cursed on the Internet, and is titled as "scum man". Compared with Musk's old boss PayPal, it has never stopped its research in the field of cryptocurrency. 
PayPal: climb up step by step
If your memory of PayPal's involvement in cryptocurrency began in October 2020, you are wrong.
That's six years ago. In 2014, PayPal established partnerships with bitpay, coinbase and gocoin, so that merchants using paypal transactions on eBay can accept customers' bitcoin payments. It was 2014 again. As we mentioned earlier, musk revealed that he was very interested in bitcoin in 2014. The relationship between the two is self-evident. This may further confirm Musk's view that he is PayPal's encryption enlightenment teacher.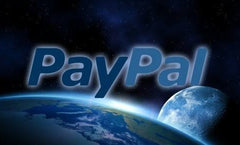 In addition, PayPal has not stopped its research in the field of cryptocurrency since 2014, and has explored the potential of digital currency through cooperation with regulated cryptocurrency platforms and central banks around the world. And through its internal blockchain research team, it continues to explore the research on the new generation of digital financial services infrastructure and digital commerce. Therefore, in 2019, PayPal ventures, a venture capital department under PayPal, invested in TRM labs, a cryptocurrency risk management platform, and Cambridge blockchain, a blockchain based identity management and compliance software company. It also participated in the launch of Facebook's stable currency Libra project (later renamed Diem) and became a member of the Libra agreement. However, under the pressure of supervision and review, PayPal chose to quit the project.
In 2020, cryptocurrency has gradually become a trend overseas. The outbreak of defi and the admission of major institutions seem to be waving like PayPal. At this time, PayPal itself is also under the pressure of declining performance. According to PayPal's first quarter financial report, PayPal's operating revenue in the first quarter of 2020 was $4.618 billion, an increase of 11.87% year-on-year, while the net profit attributable to ordinary shareholders was $84 million, a decrease of 87.41% year-on-year. PayPal naturally chose business expansion under the financial situation and the main trend of PayPal.
On October 21, 2020, PayPal issued a statement announcing its official entry into cryptocurrency.
The statement mentioned that in view of covid-19 and the surge of interest in digital currency from the central bank and consumers, it is particularly urgent to accelerate the promotion of digital payment and digital transformation. For this reason, a new service will be launched, which will allow users to purchase, sell and hold cryptocurrency directly from PayPal accounts, and will also allow users to use cryptocurrency to make shopping settlements at 26million merchants on the platform. This service is provided by the company in cooperation with Paxos trust company, a compliant virtual currency product and service provider. In addition, through Paxos, PayPal has obtained the first virtual asset limited license from the New York State Financial Services Authority.
It is reported that PayPal has 346million active accounts worldwide, including more than 26million merchants. Therefore, PayPal's announcement to enter the cryptocurrency field will not only indirectly provide cryptocurrency purchase and sale services for more than 300 million users, but also enable 26million merchants to accept bitcoin, but also significantly improve the adoption and scale of cryptocurrency in the next few years.
On November 12, 2020, PayPal announced that it was opening its new cryptocurrency service to all qualified American users. All qualified American PayPal account holders can now purchase, hold and sell cryptocurrencies directly through PayPal. As soon as this news came out, the market responded enthusiastically, so in February 2021, PayPal said that due to the very strong market demand for this, the amount of transactions that users can make per week was increased from $10000 to $20000.
But even so, the market demand has greatly exceeded PayPal's expectations. PayPal CEO Dan Schulman revealed that the demand for cryptocurrencies has reached several times PayPal's initial expectations, which is exciting. Based on this huge demand, PayPal has not long ago raised the cryptocurrency purchase limit of qualified users in the United States to $100000 per week, and completely cancelled the annual limit.
In the time when PayPal entered the cryptocurrency field, it has successively opened to allow American and British consumers to use their cryptocurrencies to pay millions of online merchants around the world, and allows users to use four kinds of cryptocurrencies to pay. On April 20, venmo, a mobile payment software under PayPal, began to support cryptocurrency transactions.
Based on its layout in the cryptocurrency field, PayPal's trading revenue in the second quarter increased by 17% to $5.8 billion from $4.95 billion in the same period last year. Compared with the previous quarter, the trading revenue increased by 3%, which also made PayPal obviously taste the sweetness of entering the cryptocurrency field. On May 29, the transaction volume of PayPal bitcoin hit a new high of more than $300million. The trading volume jumped from about $80million a day to more than the peak of $240million in January.
The end of the story? No, it's still going on
 Although musk has stopped on the road of embracing cryptocurrency, the "single call" has not stopped.
Not long ago, musk said in an interview that SpaceX holds bitcoin, and he personally holds Ethereum, dogcoin and bitcoin. As the proportion of bitcoin mining using renewable energy increases, Tesla may resume accepting bitcoin as its means of payment. Although this is limited to Musk's personal remarks, such news is still very beneficial to the market public. It is reported that musk tweeted about babydoge in early July. At that time, the popularity of babydoge spread rapidly, and the price more than doubled instantly. It can be seen that the story between musk and cryptocurrency is still unfinished.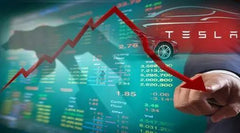 In pursuit of cryptocurrency, PayPal may have been enlightened by musk at the beginning, but in the subsequent development, it has gradually stepped out of its own pace.
For a long time, PayPal's encryption path has always followed the pace of regulation and moved closer to compliance. In May this year, PayPal has held exploratory discussions with developers on the stable currency and plans to launch its own stable currency. A spokesman for PayPal said that Paypal will continue to explore the potential of digital currency and digital financial services infrastructure, and how PayPal can help enhance digital commerce as a trusted partner in this field. John Rainey, chief financial officer of PayPal, once said in an interview that he would not refuse to invest in the asset when cryptocurrency became more stable in a few years.
Obviously, PayPal has never stopped exploring cryptocurrency. Under the influence of supporting cryptocurrency payment services, PayPal currently has more than 400million active user accounts, with a total payment volume of $311billion in the second quarter of 2021. The company also added 14.5 million new active accounts, bringing its user base to 392million. On July 29, PayPal said that it will soon launch a super application wallet with cryptocurrency function, and plans to fully promote the wallet in the United States in the next few months. Meanwhile, PayPal CEO Dan Schulman said that PayPal may launch encryption services in the UK in early August.
Guyanxi, the founder of American Liyan consulting company, said that since then, there will be no obvious distinction between banking and the securities industry, so now the digital asset exchange will certainly provide existing banking services, including storage and lending. The further result is that if the focus of modern digital asset exchange is still trading, it will definitely miss this trend in the future.
PayPal's encryption road continues, and it has begun to pay attention to the fields of defi and smart contracts. PayPal's future is accelerating towards being a bridge and hub connecting the encryption industry and the traditional financial industry, and the encryption industry is also accelerating towards compliance because of PayPal's participation.